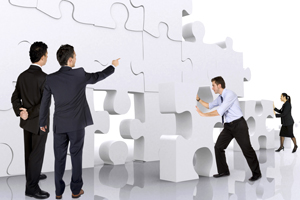 Because we know how to work well
Working in a market that requires increasingly more specific know-how, Openjobmetis intervenes promptly by developing targeted skills, aware of how important it is for every client to talk with interlocutors that use the same language and know the problems inherent in their business. Thanks to the extensive coverage and important experience of the branches, which know their local areas perfectly well, Openjobmetis is the ideal interlocutor for meeting companies' needs.
To achieve this objective, Openjobmetis uses: 
standardised procedures for selection, role playing and tests with simulation of tasks and context when choosing applications;
specialized skills for the merchandise sector through different business areas: Industrial, Health, Retail, Banking & Finance, I&CT, Horeca, Naval, Agro-Industrial.
a dedicated company, SELTIS, for the recruitment and selection of middle/top management roles (executives, managers)
a dedicated company, CORIUM, for highly advanced outplacement services, which is able to take a fresh look at new outplacement and job opportunities both for single professionals and in the field of collective outplacement;
continuous updating and implementation of applicants' database, shared by all branches at national level.